Proper Comics: Mary Boys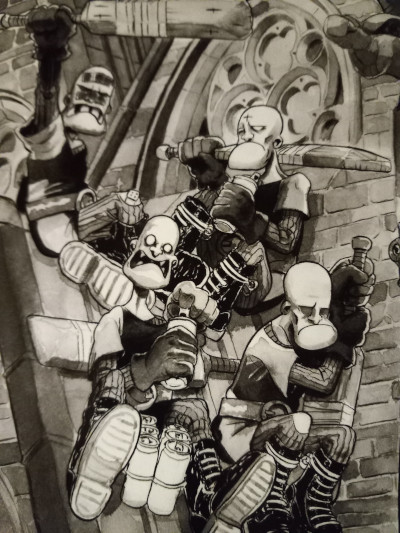 Mary Boys was an early book (actually two books, not sure why) I backed on Indiegogo and I didn't quite know what to expect, but the campaign looked intriguing. I liked the Knights Templar angle and I was drawn to the art style, which reminded me a bit of a cross between a children's story book and underground comics from the '70s.
It turned out even better than I thought. These were the first UK magazine sized comics I had bought and I gotta say, the magazine size pages add to the grandeur of the books.
The setup is a brain damaged priest finds four rejected babies in the dumpster of an abortion clinic and adopts them. He trains them in the ways of the Knight Templar and by drinking booze they gain strength and vigor. They are set on a holy mission to protect the town where they live. This book is not scared to be hardcore; the boys later burn down the abortion clinic in their Holy crusade.
An evil lives below the town, threatening to bring about the apocalypse unless our heroes can keep the wickedness at bay by cleaning up the town. Both the cops and robbers are not free from their rampage.
The creator Karl Stephan does a great job of maintaining a balance in these two books, there is plenty of cynical humor, but the priest and the Mary Boys are not belittled for their beliefs or actions. Are they really on a holy mission? Do they really have superpowers? Wisely this is kept just a little vague, and the reader can take it as they wish. The book works as both religious fiction and rude humor, at the same time.
Not being British I'm sure I'm missing a lot of references and jokes in the books but that adds to its mystique. One of the appeals of this book for me is how exotic it feels. An oversized import with art and story unlike anything else in the American comic book market. I highly recommend these books if you are looking for a different take on heroism.
One of the greatest things a comic can do is make you suspend your disbelief and allow you to be swept up in its world and characters. Are the Mary Boys saving the world by cleaning up the streets? I believe they are.
Mary Boys from Proper Comics. Read 48 Oversized Pages of black and white by Karl Stephan, aka Chubb. This is a great pair of books and definitely worth the purchase.
Pick it up on eBay https://www.ebay.co.uk/usr/lutoslava Read it and then let the author know how much you enjoyed it! https://twitter.com/maryboys1